Collectors arcana: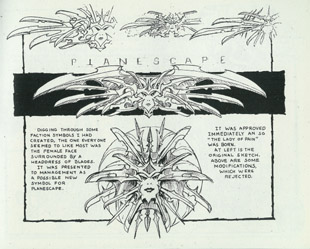 Dana Knutson put together highlights from his conceptual sketchbook for the Planescape setting into a single volume meant for the fans of Planescape setting. It was meant to sell exclusively at Gen Con and Euro Gen Con during that year of the printing with Dana himself selling them at a table and signing them for the buyer. We have come to understand not many of these sold at all which would directly contribute to the wild rarity of this item. There are many notes throughout the book that describe the setting in very basic yet complete conceptual detail. It appears in kind to the way popular movie conceptual notebooks do. Amongst many things it highlights the conceptual development of the logo, many details on the various landscapes of the setting, even costume designs of various inhabitants of the setting.

Since this thing rarely ever is availabe on the market, we have valuation data. We estimate this item will sell for several hundred dollars, if properly advertised.

"In the beginning, I must say that the world of Planescape didn't really intrigue me or my partner Robh Ruppel. My Boss Tom Lavely put a lot of trust in me to conceptualize the new world along with game designers Zeb Cook and Dori Jean Hein. So, with a lot of help and encouragement from Zeb, Dori, and Robh, I dove into it. All of us worked well together and the end result, I feel was and exciting, Spiky Bumpy world which caught the interest of management and the enthuasism of the entire TSR staff. -Dana Knutson"