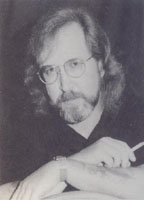 Simon Hawke began writing at a very early age. He worked in many different jobs until in 1978 he became a full-time writer. He teaches writing at Pima Community College in Tucson, Arizona. Hawke changed his name from his birth name Nicholas Valentin Yermakov.
"Hawke lives alone in a secluded, Santa-Fe style home, which he designed and build in the Sonoran Desert about fourty-five miles southwest of Tucsan, on the crest of the Altar Valley. His interests include motorcycling, history, pistol marksmanship, rock music and jazz, metaphysics, martial arts, and collecting fantasy art and Indian jewelry." (About the author, taken from: DARK SUN: The Cerulean Storm, as of 1993)

Picture taken from the book 'The Nomad'.