tfm
Tome Crew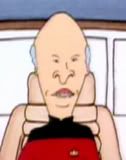 Joined: 12 Nov 2005
Last Visit: 07 Mar 2018
Posts: 4574
Location: In the House of the Cosmic Frog

Posted: Mon May 29, 2006 6:39 am

Post subject: Lost Caverns of Tsojconth (1976)
---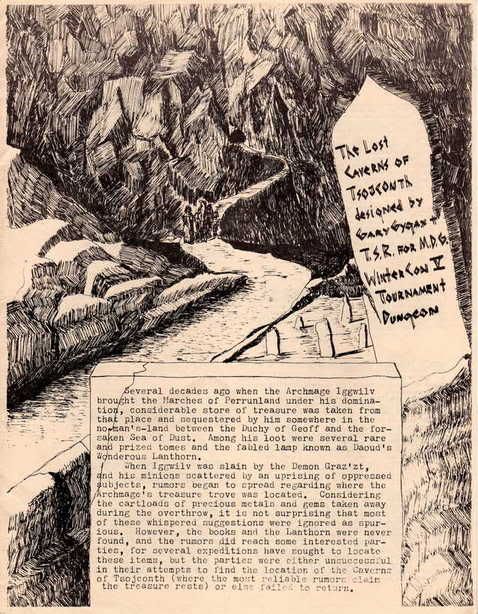 Title: The Lost Caverns of Tsojconth
Item Code: n/a
Type: Tournament adventure module
Copyright: n/a
Author(s): Gary Gygax and TSR
Artwork: n/a
Place of Publication: n/a
Format: Eight loose-leaf sheets with cover
ISBN: n/a
Cover Price: n/a
Mass: 48g
Dimensions: length 27.9cm, width 21.6cm, thickness .1cm

From the cover: "This is the dungeon designed especially for the MDG WinterCon V Gamefest Dungeons & Dragons tournament. It was designed by Gary Gygax and playtested by the TSR staff.

Use this dungeon for your own tournament or for a new exciting dungeon for one Dungeonmaster and six players. (Six players aren't necessary but all characters should be used.)

The dungeon contains two levels (the Lesser Caverns and the Greater Caverns), each with the necessary maps, room descriptions, character sheets, monster characteristic tables, character versus monster hit/damage matrixes, a monster description sheet, referee notes, and guidelines for the selection of the best player. Each level takes about 3-4 hours to play.

Metro Detroit Gamers (MDG) thanks Gary Gygax for the design of this dungeon and his permission for its printing. Other people who worked on the project include Will Niebling, Scharlotte Niebling, Bob Karalunas, Howard Dawson, Joe Tomassi, Paul Wood, Kathy Wood, Laurie Van De Graaf, John Van De Graaf, Mike Bartnikowski."
scribe
Site Admin




Joined: 11 Sep 2004
Last Visit: 28 Jun 2013
Posts: 2977
Location: NYC

Posted: Sun May 18, 2008 8:06 pm

Post subject:
---
Adding images to this entry. My copy appears to be identical to Kynan's.....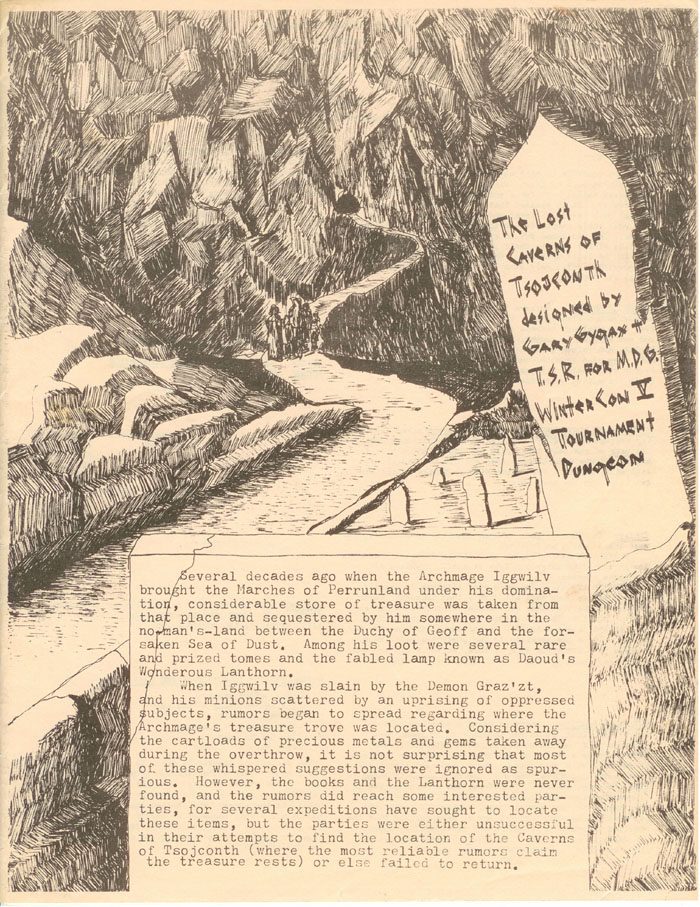 Rear image: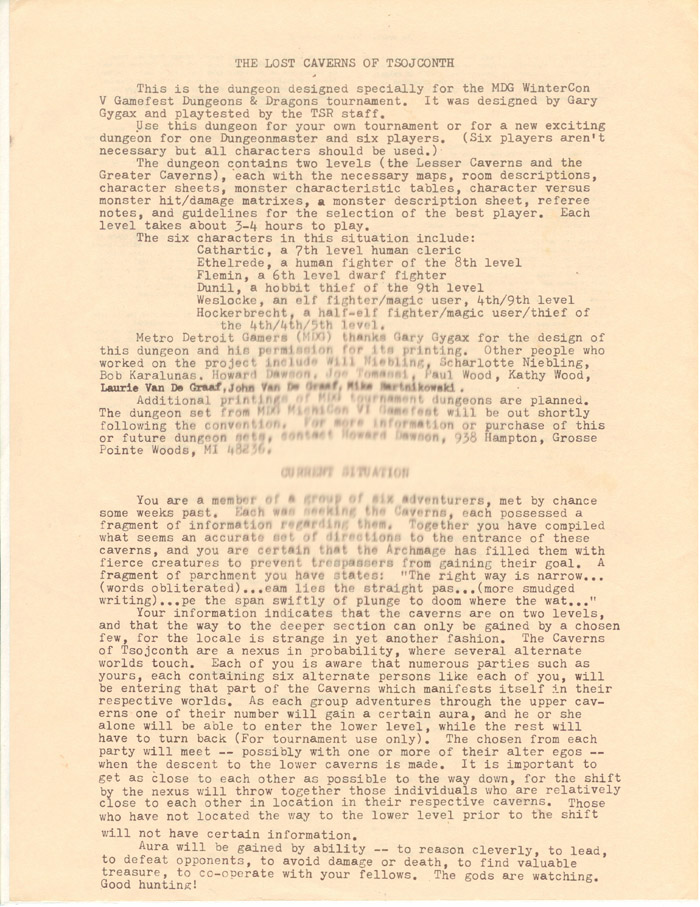 ________________________________________

Musings:
My copy is 58g. It has 10 total pages plus cover. Two additional pages are blank and are slightly whiter than the other interior. There is evidence of typed impressions on these pages which would place it outside of original printers. This could have been added by a previous owner but shall remain here for research purposes. As such, the two additional pages weigh in at 4 g a piece, making a nominal difference between these two copies.

Contents include (in no particular order)
2 blank pages (possibly added by previous owner)
1 Wrap cover printed on both sides
1 Room Key page printed both sides
3 character sheets printed single side only
1 map page printed both sides
1 illustration page printed both sides
2 pages of tables printed both sides


The very light cardstock cover has a significant orange hue that show up well in both my copy and kynan's, both in person and on more than one computer screen. The interior pages are clearly more white or brighter in tone, making this a significant identifying quality for authentication.
_________________