Ralf Toth
Site Admin





Joined: 11 Sep 2004
Last Visit: 24 Aug 2014
Posts: 2181
Location: Karlsruhe, Germany

Posted: Fri Jul 27, 2007 11:12 pm

Post subject: Spellfire Reference Guide Volume Two (1996)
---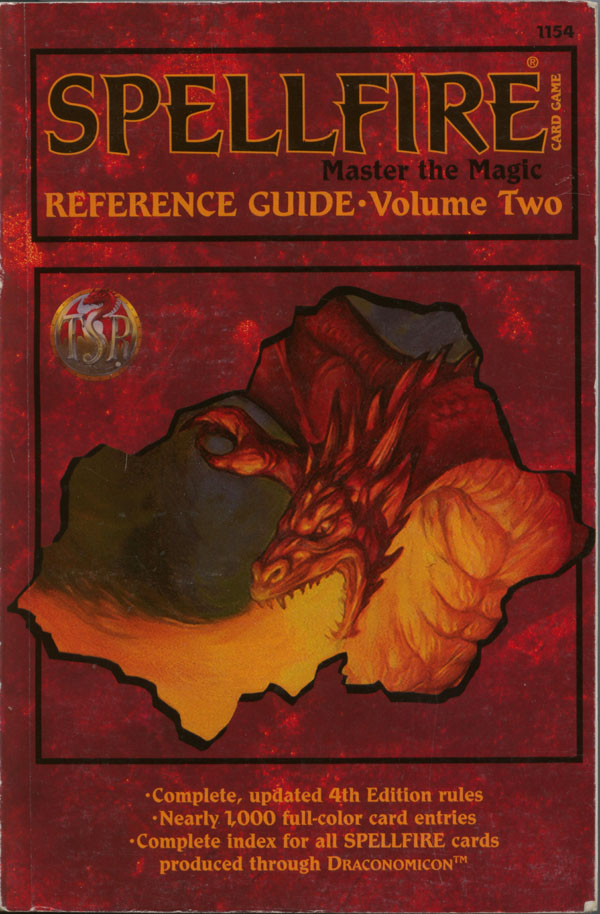 Title: Spellfire Reference Guide - Volume Two
Item Code: 1154
Type: Reference Guide
Copyright: 1996 by TSR Inc.
Design: Kevin Melka
Editing: Bill Olmesdahl
Project Coordination: Dori Hein
Electronic Coordination: Dave Conant
Art Direction: Stephen Daniele
Original Game Design: Timothy Brown, Dave Cook, James M. Ward, Steve Winter
Place of Publication: Lake Geneva, Wisconsin, United States
Printer: n/a
Format: 480-page perfect-bound softcover
ISBN: 0-7869-0613-8
Cover Price: $19.95US/$25.95CAN/£11.99UK
Mass: 600 g
Dimensions: height 21.0cm, width 14.0cm, thickness 2.4cm

"The SPELLFIRE card game is a hard-hitting, fast-playing game of strategy, skill, and surprise - and with the information contained in this volume, you can gain the upper hand!
The SPELLFIRE Reference Guide, Volume 2 picks up where the first Reference Guide left off, covering the Artifacts, Powers, UNDERDARK, RUNES & RUINS, and BIRTHRIGHT booster cards as well as 3rd Edition! The volume also includes an index for all cards produced to date, including the 4th Edition, and the DRACONOMICON booster. Containing the updated 4th Edition rules, this volume is filled with numerous examples of play and makes a perfect introduction for players new to the SPELLFIRE game. Individual card entries - nearly 1,000 in all - make interpretation a breeze.
Whether you are a beginning player or an avid veteran, this volume is all you need to master the magic!"
_________________


Tome of Treasures - #1 resource for collectible role-playing games.