Beyondthebreach
Tome Crew




Joined: 15 Jan 2007
Last Visit: 21 Sep 2010
Posts: 802
Location: Rochester, NY

Posted: Fri Jul 27, 2007 5:02 pm

Post subject: Gamma World 3rd Edition (1986)
---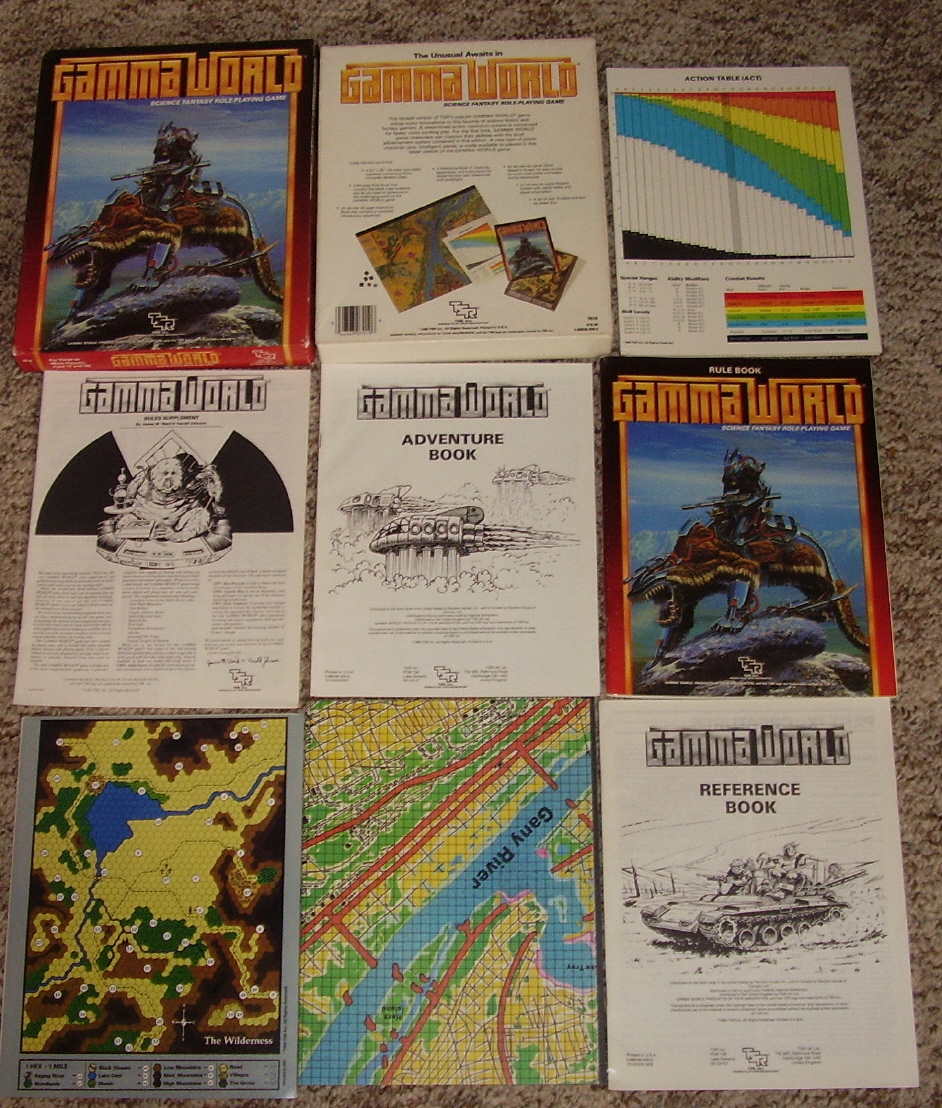 Title: Gamma World
Item Code: 7010
Type of Game: Science Fantasy (Dark Future) RPG
Copyright: 1986 by TSR
Game Design: James Ward
Devolopment: Harold Johnson
Cover Art: Keith Parkinson
Interior Art: Jeff Easley, Larry Elmore, Keith Parkinson & David Edward Martin
Cartography: David Sutherland
Place of Publication: TSR Inc., PO Box 756, Lake Geneva, WI 53147
Format: Boxed Set
ISBN: 0-88038-330-5
Cover Price: $15.00
Mass: 750g
Dimensions: Length: 28.8cm, Width: 23.0 cm, Thickness: 3.2 cm


_______________________________________________________________________


This is the 3rd Edition Gamma World box set, though it bears the same item code as the 2nd edition Rules (7010). This edition utilizes the "ACT" table for Action resolution (this system was also used for the Marvel Super Heroes RPG)

The game components are:

- Rulebook - 64 pages (7010XXX1901)
- Three Panel Screen (7010XXX1401)
- 32 page Adventure Book. Pages 15-18 are map/random encounter inserts (7010XXX2001)
- Outer Cover. This is the outer cover to the Adventure book containing the ACT table, hex max, pre-generated characters and more (7010XXX1402)
- Poster Map (7010XXX0701)
- Reference Book - 16 pages mainly consisting of creature descriptions (7010XXX1902)


**Special**

The 16 page Rules Supplement is a special item not part of all 3rd edition box sets. It is product number (7010XXX0501) and was designed by James Ward and Harold Johnson. Because of a staggering number of inconsistencies and editorial misses, the 3rd edition rules have many gaps which this supplement is meant to address. It seems to have been made available to those who wrote to TSR (either on their own or, possibly, through Dragon Magazine). It is also possible it was included with some later printings of this set. More info is needed.

It adds 30g to the mass of the set.
_________________
"Ah, Blackadder. Started talking to yourself, I see."

"Yes . . . it's the only way I can be assured of intelligent conversation."