Beyondthebreach
Tome Crew




Joined: 15 Jan 2007
Last Visit: 21 Sep 2010
Posts: 802
Location: Rochester, NY

Posted: Sun Jun 24, 2007 2:28 pm

Post subject: Gumshoe - 1985
---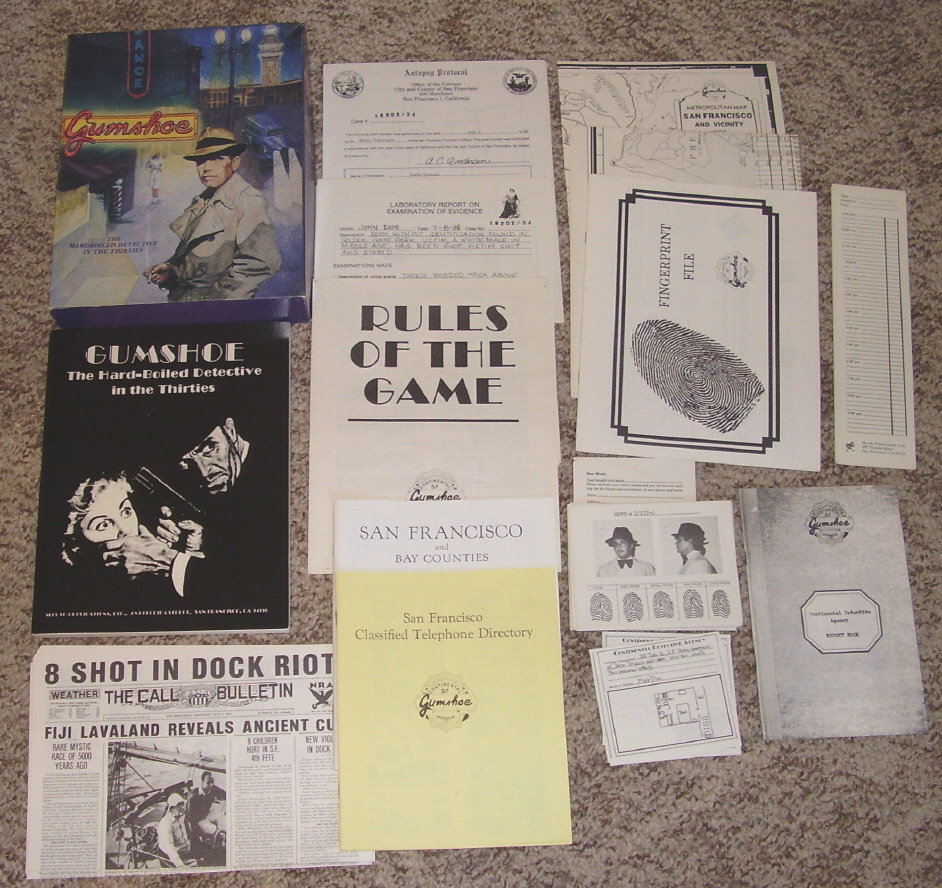 Title: Gumshoe
Item Code: NA
Type of Game: Detective/Mystery Game (RPG elements)
Copyright: 1984 by Sleuth Publications
Game Design: Gary Grady
Graphic Design: William Lamb, Helen Doward & Gary Grady
Box Design: Helen Doward
Photography: Richard Hixson
Place of Publication: Sleuth Publications Ltd. 689 Florida Street, San Francisco, CA 94110
a
Format: Boxed Game
ISBN: 0-915341-20-4
Cover Price: NA
Mass: 1100g
Dimensions: Length: 28.6cm, Width: 22.4 cm, Thickness: 5.2 cm


_______________________________________________________________________


Gumshoe is a detailed detective/mystery game set in the 1930's. Players assume the roles of "hardboiled" detectives to solve a mystery. Though not strictly a Role-Playing Game, it has many elements of role-playing to it.

The game is quite detailed with an extensive list of components:

- Large Case & Clue book (pages are unnumbered, so the page count is uncertain)
- Map of San Francisco
- Map of the Bay Area
- Bay Counties Telephone Directory (46 pages)
- Classified Telephone Directory (28 pages)
- Fngerprint File
- Mug Shot Cards (27 mugshots & fingerprints)
- Autopsy Reports (14 double-sided sheets)
- Laboratory Reports (9 double-sided sheets)
- Fingerprinting Reports (6 small double-sided sheets)
- Newpapers (9 folded double-sided newspapers with dozens of stories)
- Time Pad
- Report Book
- Rules (4 pages)
_________________
"Ah, Blackadder. Started talking to yourself, I see."

"Yes . . . it's the only way I can be assured of intelligent conversation."