tfm
Tome Crew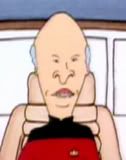 Joined: 12 Nov 2005
Last Visit: 04 Apr 2018
Posts: 4574
Location: In the House of the Cosmic Frog

Posted: Fri Apr 13, 2007 7:16 am

Post subject: Toadstool Wine (1975)
---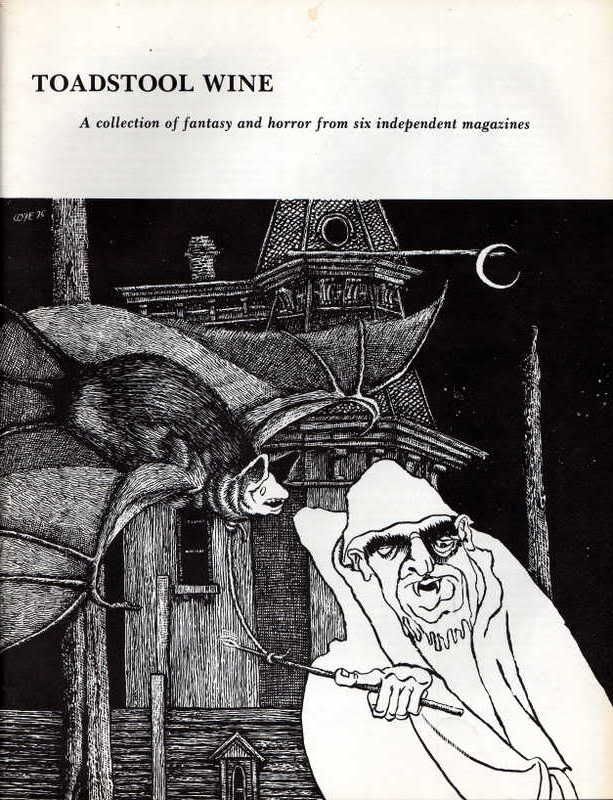 Title: Toadstool Wine
Item Code: n/a
Type: Literary fanzine sampler
Copyright: 1975 by W. Paul Ganley
Editor(s): W. Paul Ganley
Artwork: Lee Brown Coy, A. B. Cox, Chuck Wing, Cameron F. Brose, Jim Garrison, Gary Kato, Gene Day, Ronald Wilber, Mark Gelotte, K. Farrington, Steven Sinatra, Dany Frolich, George Heisterman, Michael Dziewulski, Broc Sears, Lee Brown Coye, Alan Hunter, John Linton, William Church, Steve Swenston, and Stephen Fabian
Place of Publication: Buffalo, New York, United States
Printer: Edwards Bros., Ann Arbor
Format: 63 page softcover, stapled, plus fliers for each magazine
ISBN: n/a
Cover Price: $2.95
Mass: 206g
Dimensions: length 27.9cm, width 21.4cm, thickness .4cm

Content:

"The Literature of Cosmic Dread" article by Fritz Leiber

Fantasy and Terror sampler
"Ithtidzik" fiction by David C. Smith
"The Sword That Sings" poetry by Stephanie Stearns
"Die, Black Dog" article by Charles R. Saunders

Moonbroth sampler
"Dragons, Snakes, and Wiverns" article by Tredinnick
"Scra" fiction by Douglas Justice
"Spellbound" poetry by Gahan Addams
"Lover's Parting" poetry by Margaret L. Carter

Space and Time sampler
"Death of a Unicorn" fiction by Michael M. Levy
"Pleasure" fiction by Fred Croft
"Transmutation" poem by John Bredon
"Icarus 2000" comic strip by Gene Day

Weirdbook sampler
"The Shaman's Head" fiction by Jack Wysocki
"Clover and Mushrooms" poetry by Alixandra Lee
"The Black Footprints" fiction by William Scott Home
"Sorcerer's Web" poetry by Joseph Payne Brennan
"Ranthes Yin. . . . . ." fiction by Darrell Schweitzer
"Drowned" poetry by Robert E. Howard
"Ache of an Ancient Avatar" poetry by W. Shedlofsky

Whispers sampler
"The Bait" fiction by Fritz Leiber
"Stort Writing: A Letter from H. P. Lovecraft"
"The Inglorious Rise of the Catsmeat Man" fiction by Robin Smyth

Wyrd sampler
"The Last Battle" fiction by Brian Howard Crist
"White Bear and Red Moon" art portfolio by Steve Swenston
"St. Columbia and the Monster of Loch Ness" fiction by Phyllis Ann Karr

Additional image: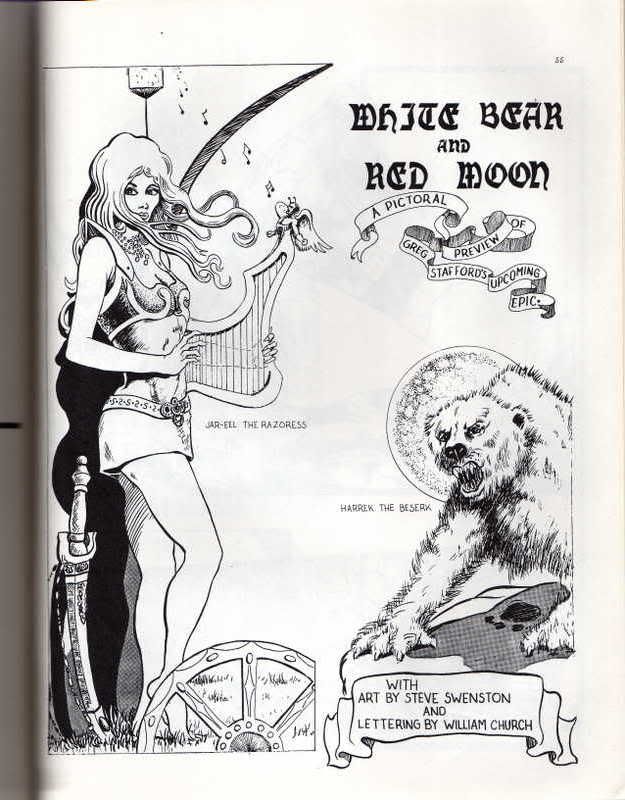 __________________________________________________________________________________________________________________________
According to the description, Toadstool Wine is a unique effort to bring together samples from six small magazines in the fantasy field. The images for the upcoming White Bear and Red Moon are from the 1st edition of the game.