tfm
Tome Crew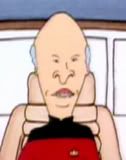 Joined: 12 Nov 2005
Last Visit: 04 Apr 2018
Posts: 4574
Location: In the House of the Cosmic Frog

Posted: Sun May 28, 2006 8:49 pm

Post subject: WinterCon VIII (1979)
---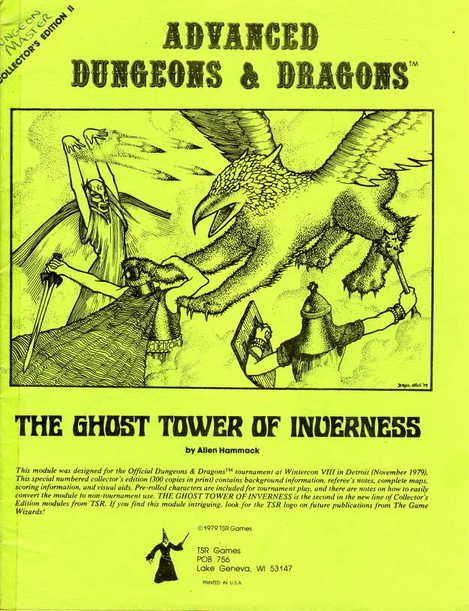 Title: The Ghost Tower of Inverness
Item Code: Collector's Edition II
Type: Tournament adventure module
Copyright: 1979 by TSR Games
Author(s): Allen Hammack
Artwork: Erol Otus, Greg K. Fleming, and David C. Sutherland III
Place of Publication: Lake Geneva, Wisconsin, United States
Format: 24 loose-leaf sheets with cover
ISBN: n/a
Cover Price: n/a
Mass: 132g
Dimensions: length 27.8cm, width 21.4cm, thickness .3cm

From the cover: "This module was designed for the Official Advanced Dungeons & Dragons tournament at Wintercon VIII in Detroit (November 1979). This special numbered collector's edition (300 copies in print) contains background information, referee's notes, complete maps, scoring information, and visual aids. Pre-rolled characters are included for tournament play, and there are notes on how to easily convert the module to non-tournament use. The Ghost Tower of Inverness is the second in the new line of Collector's Edition modules from TSR. If you find this module intriguing, look for the TSR logo on future publications from The Game Wizards!"
__________________________________________________________________________________________________________________________
One curiousity about the collation of this module which may be cleared up in the coming years. In addition to the normal pages, the sample provided has old photocopies of the DM pages (1, 2, 5x2, 6, and the cover maps). They are easily distinguishible from the regular pages, having black bars along the bottom. Normally, this would be considered an aberration or enhancement added by an owner in the past. However, the same black bar has appeared again in a numbered copy (complete with the extra sheet), this time with a photocopy of the Spell List for Hodar sheet, which normally appears on the back of Hodar's character sheet. The presence of the same anomaly of extra sheets done by the same copier in two different samples suggests something, perhaps for tournament preparation at the tournament itself. Not all copies of Ghost Tower have the extra sheets with the black bar along the bottom. It is known that one which was purchased directly through RPGA did not have the extra photocopied sheets.