aia
Cataloguer





Joined: 27 Jul 2007
Last Visit: 30 Dec 2010
Posts: 89
Location: Italy

Posted: Sat May 24, 2008 10:12 am

Post subject: B10 L'Oscuro Terrore della Notte (?)
---


Title: B10 L'Oscuro Terrore della Notte
Item Code: -
Type: adventure module for D&D classic
Copyright: 1986 by TSR Inc.
Author(s): J.Bambra, G.Morris, P.Gallagher
Artwork: B.Williams, H.Bedford
Cartography: G.Wingate
Translation: N.Gandolfi
Place of Publication: Milano, Italy
Printer: Editrice Giochi
Format: softback two-folded cover, 56-page booklet, 8-page pull-out section, counters sheet, two-folded cardboard map, large map (4x2 pages)
ISBN: n/a
Cover Price: n/a
Mass: 300 gr.
Dimensions: letter format

Additional images: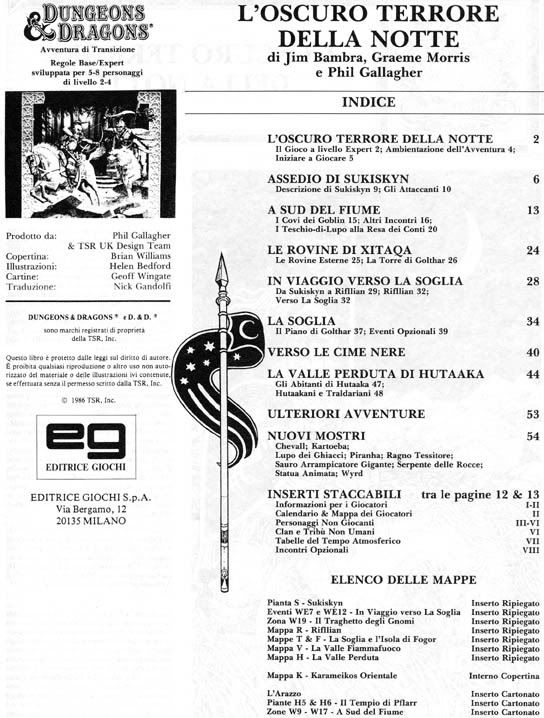 _________________
I am the servant of the Secret Maps, Wielder of the flame of Clone!
You cannot quote! The dark spam will not avail you, flame of Udun.
Go back to the Shadow! You... cannot... post!!!
Ahriman
Student





Joined: 21 Oct 2011
Last Visit: 21 Oct 2011
Posts: 1


Posted: Fri Oct 21, 2011 2:17 pm

Post subject:
---
Ciao a tutti,
Stavo cercando posti dove si potevano acquistare o scaricare le vecchie avventure tipo la società velata o, appunto, L'oscuro signore della notte. Qui ci sono solo cli scan delle copertine oppure si possono avere anche gli scan completi?