Mars
Tome Crew





Joined: 25 Jul 2007
Last Visit: 24 Jun 2015
Posts: 891
Location: Waterloo, Ontario, Canada

Posted: Sat Jul 19, 2008 8:35 pm

Post subject: Perilous Encounters (1990)
---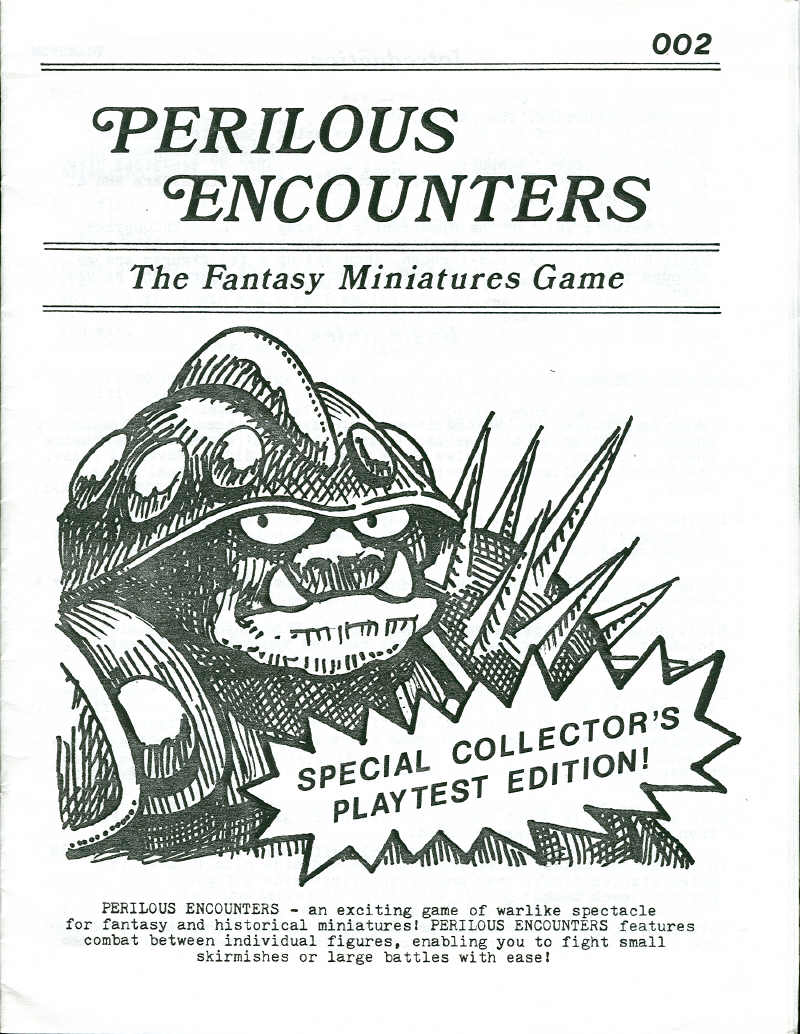 Title: Perilous Encounters
Item Code: 002
Type: Fantasy miniatures supplement
Copyright: 1990
Author(s): Stephen L. Lortz
Artwork: n/a
Cartography: n/a
Place of Publication: Anderson, IN, United States
Printer: n/a
Format: 20 page softcover, stapled
ISBN: n/a
Cover Price: n/a
Mass: n/a
Dimensions: length 28cm, width 21.6cm, thickness .1cm

Notes: Special Collector's Playtest Edition
aia
Cataloguer





Joined: 27 Jul 2007
Last Visit: 30 Dec 2010
Posts: 89
Location: Italy

Posted: Sat Aug 30, 2008 7:42 am

Post subject:
---
An issue on the date of the item: looking at this auction

http://cgi.ebay.com/Perilous-Encounters-1978_W0QQitemZ260249139219

it seems that there is an inconsistent date declared by the seller... how is it possible to have a playtest edition dated 1990 and another edition dated 1978?
_________________
I am the servant of the Secret Maps, Wielder of the flame of Clone!
You cannot quote! The dark spam will not avail you, flame of Udun.
Go back to the Shadow! You... cannot... post!!!
Mars
Tome Crew





Joined: 25 Jul 2007
Last Visit: 24 Jun 2015
Posts: 891
Location: Waterloo, Ontario, Canada

Posted: Sat Aug 30, 2008 2:40 pm

Post subject:
---
The one for auction is the Chaosium edition:

http://tomeoftreasures.com/forum/viewtopic.php?t=739

I don't have that version so I can't do a good compare. I will double check if this version is a 2nd Edition of the rules or possibly an expansion.