tfm
Tome Crew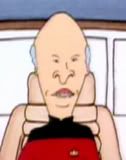 Joined: 12 Nov 2005
Last Visit: 04 Apr 2018
Posts: 4574
Location: In the House of the Cosmic Frog

Posted: Sat Jun 14, 2008 6:09 pm

Post subject: Here's a new angle!
---




Do you suppose this is the same Ed Konstant of Little Soldier(s)? Or maybe dad? I have the first seven issues, but I don't know how many were published. It's fun reading, btw.
_________________
"This is cool."