Beyondthebreach
Tome Crew




Joined: 15 Jan 2007
Last Visit: 21 Sep 2010
Posts: 802
Location: Rochester, NY

Posted: Wed Dec 12, 2007 4:20 am

Post subject: TSR Spotlight #1 (1990)
---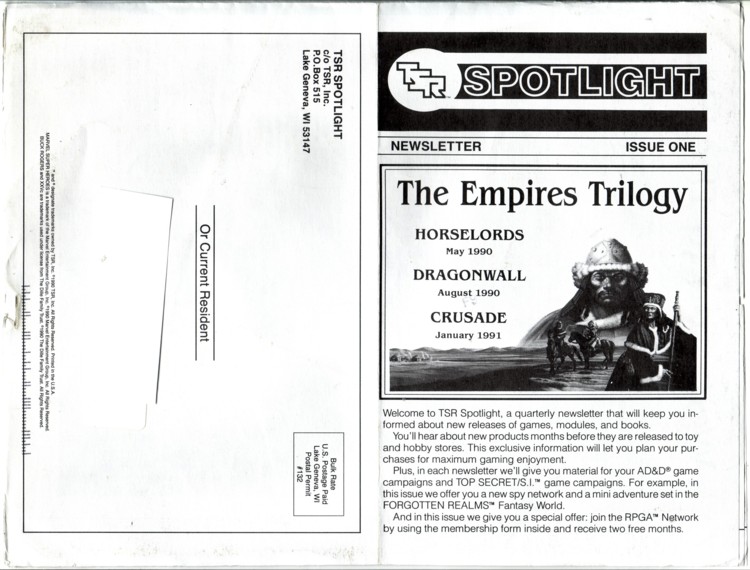 Title: TSR Spotlight #1
Item Code: NA
Type of Game: Newsletter
Copyright: 1990 by TSR Inc.
Credits: No Credits listed (see below for reprinted articles)
Place of Publication: TSR Inc., POB 515, Lake Geneva, WI, 53147
Format: 6 page booklet (unstapled)
ISBN: NA
Cover Price: NA
Mass: 8g
Dimensions: Length: 27.3 cm, Width: 21.4 cm, Thickness: 0.1cm


_______________________________________________________________________

This Newsletter was mailed folded and held closed with a staple. It is essentially a 6 page newsletter put out by TSR in 1990. It contains very little content: Page 2 has a Top Secret Article (which was reprinted from Polyhedron #42) and Page 3 contains a brief adventure/encounter with Brownies near Ravens Bluff (reprinted from Polyhedron #34). Pages 4 & 5 are listings of upcoming products and Page 6 is an add to join the RPGA Network.

Article Credits
"Welcome to the ISA" by Richard W. Emerich
"Toward Raven's Bluff" by Michael Lach
_________________
"Ah, Blackadder. Started talking to yourself, I see."

"Yes . . . it's the only way I can be assured of intelligent conversation."
scribe
Site Admin




Joined: 11 Sep 2004
Last Visit: 28 Jun 2013
Posts: 2977
Location: NYC

Posted: Mon May 19, 2008 6:24 pm

Post subject:
---
Adding a rear cover scan to this item. Contents appear to be identical to Paul's.




_________________

Musings:

I'd add that their is a decisive blue tone to the 'white' of this product. I'd call my scan a little too green in comparison to the real copy.
_________________