tntwargo
Cataloguer





Joined: 29 Jul 2007
Last Visit: 15 Mar 2013
Posts: 94
Location: Upstate NY

Posted: Thu Aug 16, 2007 7:13 pm

Post subject: Wizard V1N1 (1977)
---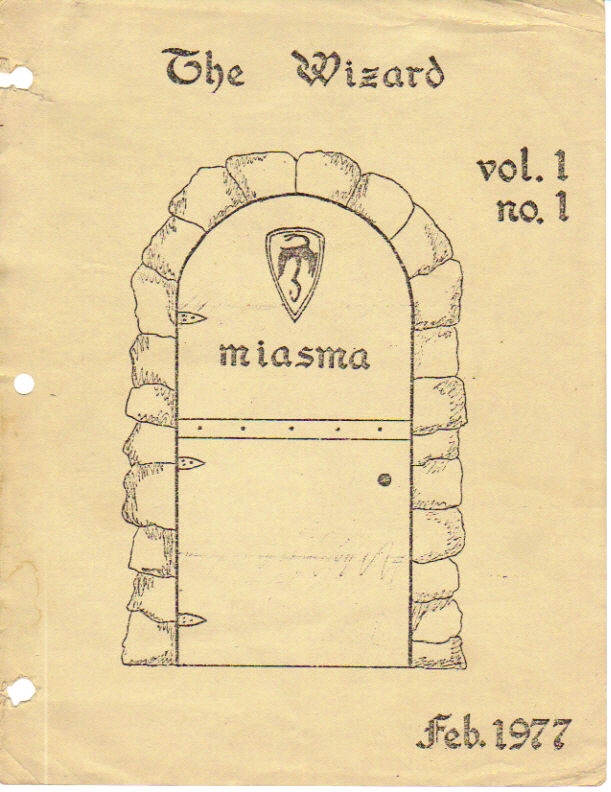 Title: Wizard, Vol. 1, No. 1
Item Code: n/a
Type: Fanzine - Dragon Seekers club of Chicago
Copyright: Feb. 1977 by Pizza Press a division of the Dragon Seekers
Author: various
Artwork: n/a
Cartography: n/a
Place of Publication: 811 W. Junior Terrace, Chicago, Illinois
Printer: Pizza Press, thanks to Rick Leeper
ISBN: n/a
Cover Price: n/a
Mass: n/a
Dimensions: 8.5" by 11"
Format: light cardstock cover, 10 pages regular paper printed both sides, 3-hole punched and held together with 3 rings.

Contents:
Presidents Editorial - Jordan Weisman
Club News
Lyle's Lair - Lyle's Hobby Shop, 38 North Cass, Westmont
A Universal Subclass or Catholocism for Everyone - Stuart Manewith and Evan Singer
Introduction to Dungeons and Dragons
New Creature - Mad Waller
Empire of the Petal Throne

Comment: The subclass is Exorcist. If any additional info needed, please contact.